Wednesday, October 26, 2022 by LotBlind
Career Enemy Harrier, Lay on the Fear from the Rear of the Area, Tappin' the Apnea to Cap Deer that Hap Near Something Something
Saturday, July 2, 2022 by LotBlind
"Spies Spilling into the Speakeasy! Split those Sparsely Spaced Spurious Spelunking Speciesists into Splattery Spareribs!"
Wednesday, March 30, 2022 by LotBlind
Sniff 'em out, Snuff 'em out, Stuff 'em Stiff (and hang them on your wall)
Sunday, March 13, 2022 by LotBlind
Blind Guessing #2: Volunteering pt. 1
Last time's post, which I felt my duty to post about at least somewhere else as well, obviously resulted in a great big cackle... speedrunners are a sub-type of gamers after all, and few games train you in the finer points of interlocution. There was a great heap about what the post DIDN'T say and not a heck of a lot on anything it DID say, unless it was to take offense at it. Sound familiar? Now that doesn't quite summarize the totality of the emerging chatter and I would love to take another look at the less odious comments later. As an unpaid volunteer, diving into lengthy discussions doesn't always feel hugely rewarding, doubly so if it's with people who won't give you an inch of that benefit of the doubt slack. Seriously, please read at least the phrase's dictionary definition. You don't have to agree with what someone is saying, but you should try to remember miscommunication is often a two-man show. There are so many situations where the fools will rush to connect dots in the only way they know how to, forgetting we come from different angles and my truth (what's important or likely to come to mind for me) can differ wildly from yours. That doesn't make me, or anyone here, insincere.

Speaking of unpaid volunteers – and the tautology notwithstanding – what I do want to dive into in a few of these haphazard "BG" columns is just that: what, if anything, has happened to volunteering through SDA's history, and in society as a whole. What especially ties the topic to SDA is the number of cries echoing in its metaphorical hallways about how "SDA had the HR to pull it off, but IT JUST DIDN'T WANT TO", about 5 to 8 years ago let's say. "Pull it off" here means "stay relevant", of course. You don't know what "stay relevant" means? Me neither... Just exactly how many users doing what exactly is enough to have "stayed relevant" is anyone's guess. We might be talking about stuff like making all the obsoleted runs directly accessible (currently you have to go to archive.org, stick in the URL and most of the time the run you wanted will be there, but it's a semi-chore and not everyone will realize it's possible); like changing the appearance in this way or that; like adding mobile support (but people spend too much time on their phones already as we're going to establish later); like what many people, self-evidently, wanted to see: those full-blown leaderboards that ended up emerging on speedrun.com. But even making it more apparent what kinds of tasks are available for volunteers, and then explaining how to do them... requires a volunteer to do that.

Here's what it seems to look like from the outside (source):

"Make [the site] responsive to volunteers. Every single time there's a thread about the future of SDA, people come out of the woodwork to volunteer. Don't give me this lack of manpower jazz. There's manpower. There's simply no leadership to take advantage of it, and there hasn't been since Uyama moved on. There are people willing to put in many hours for this site. Find the next ktwo, and the next, and the next, and you'll work wonders for SDA."

Here's what it seems to look like from the inside:

"no one ever does anything. that goes for people coming from outside who had never submitted a run. the more successful track seems to have been people like mike uyama or dex or ua who were submitting runs and then got roped into doing site updates and sometimes even more. –– afaik that rule about outsiders versus insiders hasn't changed since the very beginning. at least as far back as 2008 i remember having high hopes for people coming in from outside and redesigning stuff and it never happened. eventually i became 100% skeptical but i didn't let it stop me from dumping info on new people since you never know."

If you want a sample of the kind of pain inherent in developing sites like this, you can head on over to this thread. As I understand, DJGrenola was a keen web developer and "dreamer of dreams" (more tautology notwithstanding) over on SDA for a substantial while, obviously quite skilled in his art. While his pet project, "SDA 2.0", ended short of tangible fruition with, as I gather, healthy helpings of burnout and disillusionment in the mix, early users knew him well for the updates he posted, which were done at a time when none of the relative luxury us pun[n]y whipporsnappxors are cod[dl]ed with could help you cut any corners (quote). Back then, to cut anything, you started from the raw bit porridge of the untamed wilds (more tautology there, by Jove what a hack I am). Grenola was basically an American Pioneer of Freedom of the kind that doesn't misappropriate native spaces, just like all the OGs around here are, carrying the torch (first having made it of course) through what I fully accept were "the Dark Times" (quote). The site as you see it today was ultimately coded by radix, nate, gammadragon, UraniumAnchor, dex and anyone who's not on that list but ought to be. To get a site like this up-and-running, then keep it up-to-date with Stone Age equipment towers above coming along later to write a few updates when someone else paid those 4000 food and gold to boost you right into the Imperial Age with all those blast furnaces, block prints and... umm... hand cannoneers.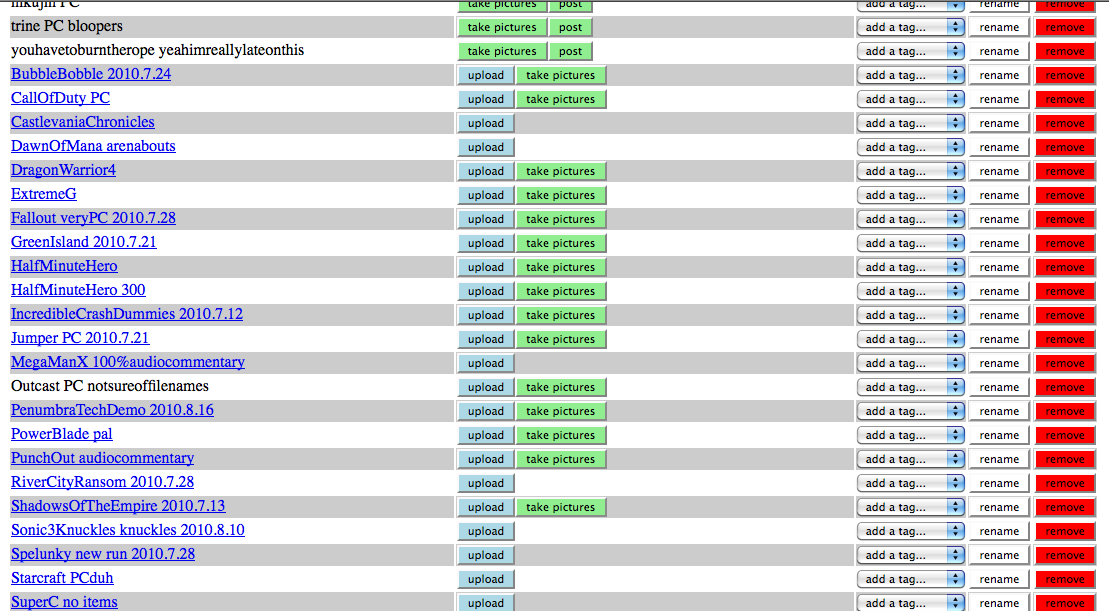 SDA Queue v. 3


"the site backend is a deceptively difficult problem. it's not enough to know software and database design. you have to also enjoy week after week of thankless grunt work importing data since no one who volunteers ever actually does that work."

Of course the bit porridge is not the only kind of raw materials. It's just the least visible... and also the most visible, actually. After beaching at this palmy resort in and around 2012 on one of the giant waves launched by the earth-shaking early GDQ marathons, my first acts of recompense were in verifications. I was drawn to those since I got to use my critical thinking and creativity which I found could even trump those of the runners' in many cases, despite my apparent ignorance on the subject matter (most games aren't rocket science). The next frontier was these front page updates. At some point I started doing that dread PRC as well (that's when you look over a fully encoded run's A/V one more time before release, which used to be very arduous before certain later concessions). And finally, in 2016, I was knighted Sir LotBlind the Tautologous to take over retiring moooh's seat for gamepage duty, the shouldering of which was something it took probably half a year to say I was feeling anything like comfortable doing.

Now here's a paragraph all about hands! By that time, I had already taken charge of the front page as well by virtue of my delicate scribe's hands. Behold the mystique of fecundity! The feduncity of mystique! Like check this out: What's first thrown up, then thrown up again, only to be thrown up once more if it's NEITHER lutefisk NOR haggis? By the time I'd settled into that Round Table seat, I had started to pick up on those same gestures in prospective volunteers' hands: first they're raised up to show interest, then they're thrown up as a sign of defeat, then they're stuck high in the air again at the party they figured they'd rather hit. Let me be clear here. Are you listening and taking notes? I'm talking about 90+% of all volunteers that have approached me or a colleague on the two websites I've worked for. You handshake with enthusiasm, you talk them through some hand-picked options for what they could be doing, you make sure to hear out their own preferences, you hand them something seemingly quite easy-to-hand-le, you hold their hand over that initial hump with your handy advice... and then you're left empty-handed, time and time again. And that makes it a net LOSS of resources given the time off your own hands. I've tried being more hands-on with these "helping hands". I've tried being more hands-off too (though I admit as a fast typist, I tend to exuberate, if only in the name of giving a lot to go on, also what does "case in point" mean?). I've tried to ask them if they prefer simpler mechanical handiwork or to be given free hands. I'm handsome.

"you might think with thousands of people visiting the site, you would feel like your work was more appreciated. well, yes and no. i've noticed that some people are better than others at focusing on the positive. when you do all this work updating the site and then people file into the forum to start complaining about a million tiny things being wrong, or not how they prefer them, it gets discouraging. you wonder 'i did all this work? for these assholes?'"

What's that? Oh, so that's what "case in point" means? Thanks! Well in that case, allow me to share just one such individual occurence with you. I want to preface this by saying I'm NOT here to pick on anyone and I'm only using this particular example because it's fresh in memory and particularly illustrative. Not long ago, I was contacted by an archivist. Does Speed Demos Archive... actually have any use... for an archivist? Why yes, turns out it does! Here's an abridged and slightly paraphrased but accurate-in-spirit retelling of the tale:

2020-12-18, them:

"I'm a trained archivist, with a vested interest in speedruns. I'd love to help however I can."

2020-12-19, me:

"What kind of time commitment are you thinking of and do you think your situation is likely to change?"

2020-12-19, them:

"I could conceivably do 14–20 hours per week, two to three hours a day. My situation is not likely to change. SDA and GDQ have given me a lot over the years in terms of entertainment and joy so I'm just happy to be able to give something back if you guys are in need.

2020-12-21, me:

"14–20 hours is a lot already! I hope you're not burning yourself out."

Then I write three paragraphs about an overdue task that looked spot-on for their skillset. The message ends with: "Do these in whatever order seems smartest, and at your own pace."

2020-12-21, them:

"I was looking for something to do over Christmas break and this works out perfectly. I'm just someone who likes to stay busy, I don't know what to do with myself sometimes if I don't have enough things that I'm working on. This is fun work, trust me. I'm going to start working through point A, that shouldn't take me long, maybe a day or two." (In hindsight, this starts to sound an awful lot like I was getting trolled the golly gee out of, but I don't think that's ever been the case.)

2020-12-22, me:

"Sounds great! Keep us updated..."

Fast forward a few weeks.

2021-01-02, them:

"You know, this is actually harder than..."
"It looked good until...
"There are some problems with..."

Now those three highlights from their post-holiday status report are an incomplete summary to be sure. They do represent the only parts of the message with any obvious explanatory power, however. With 14–20 hours a week, it having been over a year now, we expect to see some incredible progress along this particular archive-o-logical roadmap, right? Like we should have the whole archive archived in an archive so we can archive while we archive, no? And not just some scattered notes on what its present state is and a couple of links, right? Right?

I want to be extra super crispy clear, I'm not barking up this person's tree here. Things probably didn't go the way they intended either. I don't know what the reasons are they had a change of heart/circumstances (hit by lightning for all I know) and I'm not about to start speculating. Not in this update or about any individual cases. We're only going to be happy to see them back if ever this should transpire and we can resume where we left off, no hitches. I included this story here because it demonstrates so usefully why the part that's publically visible (well, not in this specific instance), the first of those three ritualistic manual up-thrusts, is necessary... yet almost completely meaningless. And that concludes today's lesson.

(The unmarked quotes are from nate.)
Friday, January 14, 2022 by LotBlind
The Fore and the After